Trigger Generation IP is an algorithm IP that generates a trigger signal for connecting CX1000 to a fault analysis instrument or an external measuring instrument. This IP repeatedly executes the pattern and generates a trigger signal.
This IP is optimized to generate the trigger signal with minimal overhead time.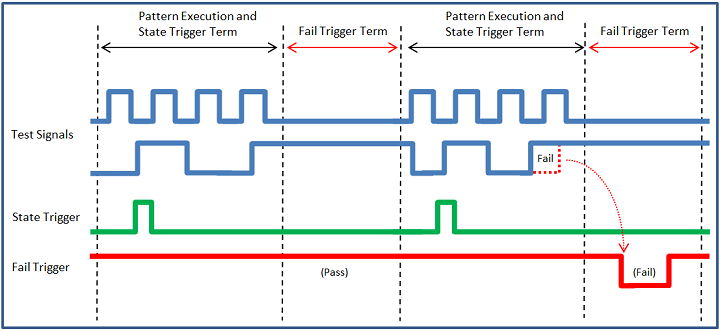 This IP has the following functions.
Executes the pattern a specified number of times and generates the following trigger signals.

Fail trigger signal
Outputs a negative pulse to the specified Control Word channel when the pattern execution result is Fail.
State trigger signal
Outputs a positive pulse to TRG channel of all FUNC connectors at the specified pattern address, pattern cycle, or all pattern cycles.

Outputs a trace log about the execution result of the pattern.
Supplies the power from external power supply instruments controlled by GPIB by External Power Supply Control Plugin.
Executes the batch file at specified timing of the measurement sequence to algorithm IPs by Batch File Execution Plugin.