Question
About Out-Of-Setting Voltage in power supply current measurement
Answer
An out-of-setting voltage may occur in the case of the following conditions.
Change to other measurement range at power supply current measurement.
The capacity of the bypass capacitor that connected to Power Supply terminal is small.
When you mesure the power supply current, we recommend that Bypass Capacitor in Power Supply tab is ON state.
And also please confirm that there is no voltage fluctuation to DUT by oscilloscope and refer to "9.6 Precautions" of "CX1000 User's Manual".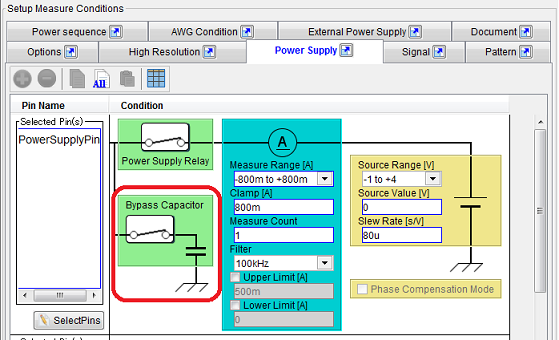 The following IPs, can masure the power supply current.
PCXA01-M1028 Power Supply Current Measurement IP
PCXA01-M3003 Power Supply Current Measurement for Memory